Shanklin Cemetery
From Wightpedia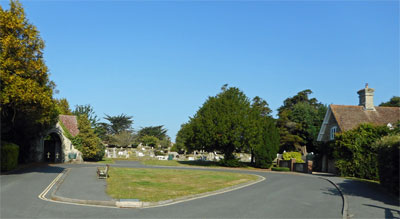 A Burial Board for Shanklin, Isle of Wight was established in 1876 following a notice issued by the lord of Shanklin Manor (Mr. Popham White) and the Rev. Southouse that no further burials would be allowed in the old Shanklin churchyard except for deaths within the small area of St. John's.
The Burial Board established Shanklin Cemetery, on Cemetery Road, off Green Lane at Lake, on land gifted by Col. Francis Henry Atherley J.P. of Landguard Manor.
A further area of land was purchased in the 1950's part of which was used to extend the cemetery and a further part has been leased to Wight Nature forming Copse Mead Nature Reserve
The Burial Board was later administrated by Shanklin Urban District Council, afterwards by Sandown and Shanklin Urban District Council, and then, from 1974, by the South Wight Council. Responsibility passed to the Isle of Wight Council in 1995 following the creation of the IW Unitary Authority.
A number of victims of ship wrecks on the local coast are buried in the Cemetery.
Another resource:
   [Isle of Wight Council - Bereavement Services]