Appley Towers, Ryde
From Wightpedia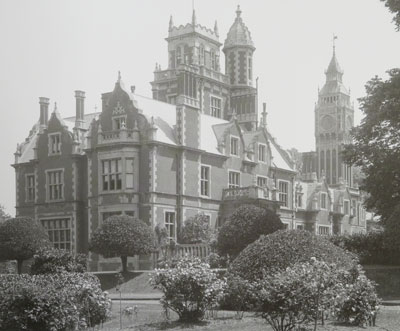 Appley Towers, early 20th century
Appley Towers, originally in the Parish of St. Helens, was an estate on the Island coast opposite Portsmouth.
In the 1850's it was owned by Mr. George Young, a Land Proprietor & Corn Merchant[1] born in Scotland.
The estate was purchased by Sir William Hutt, a Privy Councillor and Member of Parliament for Kingston-upon-Hull and Gateshead, in 1873, and following his death in 1882, the estate passed into the ownership of Capt. George William Hutt.
In the 1881 census, Sir William's sisters, Mrs. Catherine Warden and Miss Francis Hutt, were in residence at Appley Cliff, Shanklin.
Following the death of Capt George Hutt in 1910, the estate was put to auction[2]
MESSRS. TROLLOPE

RYDE, ISLE OF WIGHT

Within about a mile of the centre of the Town and Pier, and about half-a-mile from St. John's Railway Station.

The extremely important

FREEHOLD RESIDENTIAL ESTATE distinguished as "APPLEY TOWERS," extending in all to about 191 acres, and including an imposing mansion most substantially built in the Domestic Tudor Style of architecture, containing accommodation for a large establishment, having a long sea frontage with private landing pier, and commanding magnificent views over sea and land, together with richly-timbered pleasure grounds and park lands, lodges, stabling, Home Farm, etc. ; also a first-class agricultural holding known as WESTRIDGE FARM, with excellent homestead, "LITTLE APPLEY," a stone-built residence standing in lovely grounds of about six and half acres; also COTTAGES and FREEHOLD GROUND RENTS.

MESSRS. TROLLOPE, in conjunction with Messrs. HAMPTON & SONS, will Sell the above by Auction, at the Mart, Tokenhouse Yard (near the Bank of England), E.C., on WEDNESDAY, the 27th day of July, 1910, at 1 o'clock punctually, either as a whole or in lots as set out below.

No. of Lot.
Description.
Area.
a. r. p.
1
Mansion, Lodge, Grounds, Parkland, etc.
46. 1. 3.
2
Stabling, Kitchen Garden, Home Farm, Elsie and Burrard Villas
10. 0. 5.
3
Westridge Farm
125. 0. 3.
4
Cottage and Market Garden
1. 1. 14.
5
1 and 2 Appley Villas
0. 0. 20.
6
Little Appley and Grounds
6. 2. 17.
7
Ground Rent of £14 10s on Westfield and Parkfield
1. 0. 17.
8
Ground Rent of £10 on The Firs and Elm Villas
0. 1. 36.
9
Ground Rent of £5 on Clutha Villas
0. 1. 6.
191. 1. 1.
The estate was purchased and renamed 'Appley Hall' by Sir Hedworth Williamson bart., ninth baronet of East Markham and a bachelor. A large landowner, Sir Hedworth was chairman of the firm under his name working quarries at Sunderland and Kirkby Stephen, in Westmorland. The family seat was Whitburn Hall, Sunderland. A keen sportsman, he frequently entertained Sunderland football team at Appley House, Isle of Wight, when they were playing in the South. [3]
Sir Hedworth Williamson died in October 1942.[4]
Following negotiations over the following years, Ryde Borough Council finally purchased the house and estate in 1945 and the following years sold off the upper part after retaining the foreshore and a depth of the estate for development as Appley Park.[5]
The main house was demolished in the 1950's.
The top part of the original estate, and the area of the Home Farm, have been developed with housing.
See also: