Category:Newtown
From Wightpedia
Historically Newtown was a thriving commercial centre on the Isle of Wight known as Francheville ("Free Town". because it was free, or almost free, of manorial obligations) although today it has a small population with no shops or pub.
After Francheville was burnt to the ground by French invaders in 1377, a new town was built - hence 'Newtown'.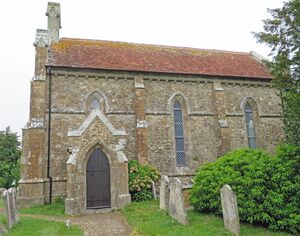 Newtown used to return two Members of Parliament and was a 'rotten borough' under the Reform Act 1832 when it lost its representation. Local 'folklore' recalls that the people of Newtown were so upset about losing they representation that they spent the borough's funds on building the new large Church of the Holy Spirit rather than pass the funds to another authority.
However the historic status is still evident by the Town Hall (which is opened by the National Trust at various times), the Church of the Holy Spirit and the old street names which are still used.
Parking is provided by the National Trust on the outskirts of the village.
For further details: National Trust- Newtown
Pages in category 'Newtown'
The following 8 pages are in this category, out of 8 total.