Technical Institute and Seely Library, Newport
From Wightpedia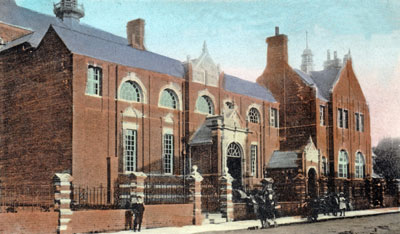 The Technical Institute and Seely Library, in Upper St James' Street, Newport, was built in 1904 by the Isle of Wight County Council on the site of a former nursery. The architect was W. Venn Gough and the contactor was local firm Messrs. Jenkins. The building was opened by Lord Alverstone in January 1904[1].
The library, built with the support of Sir Charles Seely of Brook, became the first public lending library in the country and would, over the coming years, spread across the whole Island.
The Technical Institute was built to provide "technical education" lectures in many subjects, including horticulture. Practical horticulture was practiced in the gardens - now the site of the big playground on Medina Avenue. It also provide evening education for adults.
In 1907 Newport County Secondary Grammar School moved into the building and remained until 1958 when they moved to a new purpose built campus at Carisbrooke, and became known as Carisbrooke Grammar School (later Carisbrooke High School).
Since then, the building has been the location various educational establishments (Priory Girls, Nodehill Middle School etc).
The Seely Library moved out of the building in 1981 when the new Lord Louis Library building was built in Orchard Street[2].