Portland House Academy, Newport
From Wightpedia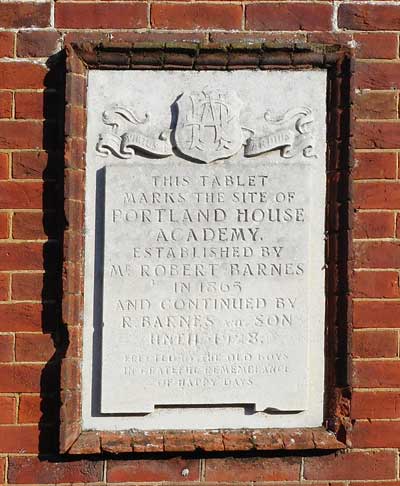 Portland House Academy wall plague
The Portland House Academy was established by Robert Barnes in 1865 in Portland House on Carisbrooke Road - it later extended to a property on the corner of West Street and Trafalgar Road.
Following the death of Robert Barnes in 1894, the school continued under the leadership of his son, Edwin George, until 1928 when the school was closed in anticipation of a road widening scheme and an extension of the Morey & Sons timber yard factory in West Street.
In the 1898 and 1911 Kelly's Directories, the school is recorded as Barnes Robt. & Son, Portland House academy, Trafalgar road & 23 Carisbrooke road (after pre 1931 changes in house numbering now 43 Carisbrooke Road).
A tablet (above), on the corner of West Street and Trafalgar Road records the final location of the Portland House Academy, the tablet was erected by some 'old boys'.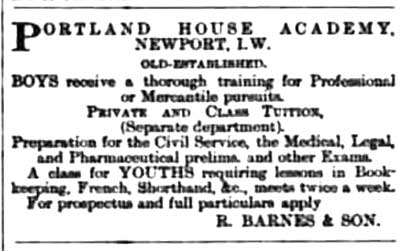 Portland House Academy advert - iwcp 29 January 1898
In 2020 there is a 'Blue plaque' on Portland House at 43 Carisbrooke Road remembering Headmasters Robert and Edwin Barnes who lived there 1850 - 1940.