Northwood Cemetery
From Wightpedia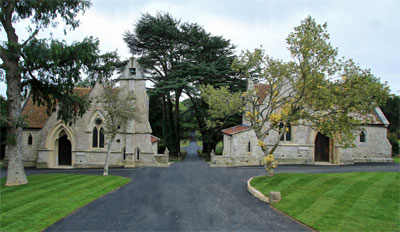 Northwood Cemetery, on Newport Road, was established in 1856 by the Northwood Burial Board on 4 acres of land purchased from the Ward Estate which owned a large part of Northwood Parish, including Northwood House.
Two chapels were built near its entrance: one for Church of England services; the other for non-conformist services. The grounds were landscaped and divided by paths into different areas for consecrated (two-thirds) and non-consecrated (one third) burials.
The cemetery largely replaced the churchyards of St Mary's and Holy Trinity churches in Cowes and St John's church in Northwood which were becoming full.
In 1871, 1877, 1904 and 1933 the Cemetery was extended by further acquisitions until today (2019) it covers 17 acres and the over 17,000 burials are mostly of those from the Cowes, Northwood and Gurnard areas.
Ownership passed from Cowes Urban District Council to Medina Borough Council in 1933 and subsequently passed to the Isle of Wight Council, the Unitary Authority, in 1995.
It contains the burial of many prominent local people as well as many Commonwealth War Graves and a memorial to the civilians killed in the blitz of Cowes on the night of 4th/5th May 1942.
It continues to receive burials and includes the only municipally owned Natural and Muslim Burial Grounds on the Isle of Wight.
In 2008 a voluntary group, the Friends of Northwood Cemetery, (now a Charitable Incorporated Organisation) was formed to support the Isle of Wight Council's management responsibilities and to seek funding for the restoration of the Cemetery including its twin chapels which were in poor state of repair.
A £1.6m grant from the National Lottery Heritage Fund was secured and the subsequent restoration was completed in 2017.
The Friends of Northwood Cemetery now (2019) occupy one of twin chapels which serves as a Heritage Resource Centre in partnership with Isle of Wight Family History Society which is open 5 half days a week for visitors (see website for full details).
The Friends of Northwood Cemetery's website includes a database of burials, wildlife in the cemetery, events etc.
Other resources: