MV Vecta Ferry (1938-1965)
From Wightpedia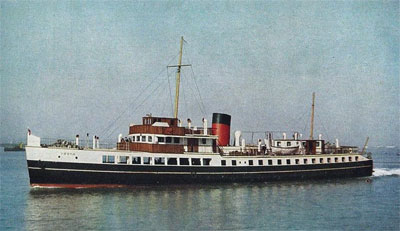 MV Vecta was a vessel built for, and operated by, Red Funnel on their Cowes Isle of Wight to Southampton route.
MV Vecta, a passenger and car ferry, was built in 1938 for Red Funnel by Thornycroft at Woolston. She incorporated twin Austrian supplied Voith-Schneider propellers which gave greater manoeuvrability but these were replaced by conventional propellers at the beginning of WW2 as spare parts were not available.
Although she was destined for the Dunkirk evacuation, she had to turn back due to mechanical problems.
She was used on the Southampton/East Cowes/West Cowes route and was able to carry 12 cars on the deck, underneath the bridge and forward passenger deck. Vehicles were loaded through large doors on the starboard side.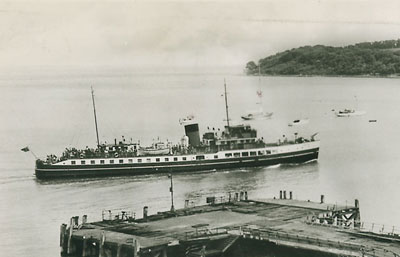 She was sold in 1965 to Townsend Car Ferries and was used in the Bristol Channel under the name 'Westward Ho', She was withdrawn 1971 with engine problems and laid-up at Falmouth.
In 1972 she was sold to Compass Catering Ltd. and renamed 'North Westward ho!'. She was then towed through the Manchester Ship Canel to the Pomina Dock, south of Manchester city and fitted out as "Manchester's first Ship Pub", offering six bars, Bass ale, late licence and disco.
For a period, a de-commissioned BOAC/RAF de Havilland DH106 Comet aircraft was parked beside and acted as an overflow restaurant and dance floor!
Both the vessel and the aircraft closed in 1981 - the vessel was resold in 1985 and was towed to London's West India Dock.
Finally broken up 1996 in Cornwell.
Also see: