Laline Cottage Alms Houses, East Cowes
From Wightpedia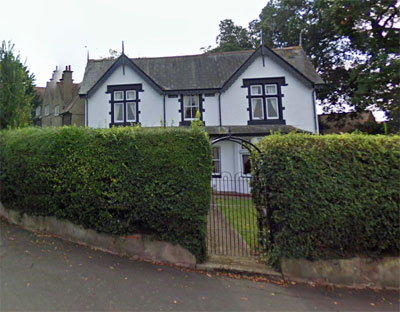 Laline cottage 2011
Laline Cottage Alms House on the east corner of York Avenue and Adelaide Grove, East Cowes, Isle of Wight was established by the wife of Standish Prendergast Vereker, 4th Viscount Gort.
She gave it to the East Cowes Local Board to house "six gentlewomen of East Cowes", probably about the same time Lord Gort gave the town the Jubilee Recreation Ground to the east of the cottage in 1887. The 'Hon. Laline Maria Vereker' was the daughter of Standish Prendergast Vereker, 4th Viscount Gort and Hon. Caroline Harriet Gage. She died on 15 June 1929 in Italy, unmarried.
The building first appears on the 1898 OS map.
Laline Cottage Alms House is also recorded in the 1891 census, two ladies are recorded, each occupying two rooms, with one position 'unoccupied'.
In the 1901 census, a matron and 3 single females, one of whom is recorded as 'housemaid' are recorded.
In the 1911 census, five elderly females (4 widows, 1 single) are listed in four 'properties', each individual having one room 'and use of kitchen.'
The property was sold in October 1935 and a Trust Deed was established 31st October 1935 forming the charity 'Proceeds of sale of Laline Cottage', number 202836 "For the benefit of any deserving poor members of the Church of England within the Parish of East Cowes or for any ecclesiastical purpose within the meaning of the Parochial Church Councils (Powers) measure 1921 affecting the said parish or any part thereof."
The charity ceased to operate prior to 2001 when it was removed from the Register of Charities.