Kingston Power Station
From Wightpedia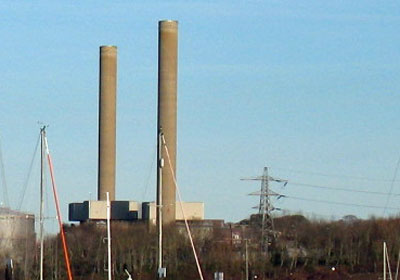 Kingston Power Station was built by the Isle of Wight Electric Light and Power Ltd as a central power station for the whole of their network in 1928 to replace their four power stations.
The Power Station at Kingston was on the site of the Osborne Naval College engineering department. A jetty on the banks of the Medina facilitated supply of coal to the power station by barge.
After nationalisation (1949), a cross-Solent connector was laid and normal power generation on the island ceased. The coal fired power station was used until 1982 to supplement the cross-Solent connector to meet peak demand and as a standby in case of a failure of the connector.
The Kingston Power Station was rebuilt in 1982 and is owned and operated by RWE Generation UK Ltd. The new power station is a 140MW Open Cycle Gas Turbine station powered by two 70MW units, each comprising 4 Rolls Royce Olympus Gas Turbine engines powered by light fuel oil.