Fort Victoria pier
From Wightpedia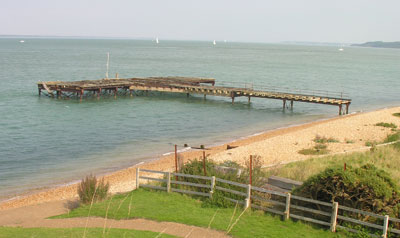 The pier at Fort Victoria was built about 1856 to serve the military establishment at Fort Victoria.
The fort and pier were ideally located to aid following the collision between HMS Gladiator and the American liner 'St Paul' in 1908.
Between the World Wars there were plans to operate a passenger service between the pier and Keyhaven, but this never materialised.
It was used throughout the operational life of Fort Victoria largely for just military use, often just for training.
The military final left Fort Victoria in the early 1960's. The pier now stands neglected.