Flowers Brook, Ventnor
From Wightpedia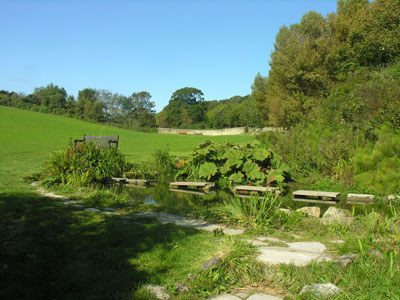 Flowers Brook was part of the Steephill Castle Estate, Ventnor, Isle of Wight and was purchased by Ventnor Urban District Council in 1919 for £450[1].
Flowers Brook is a park west of Ventnor Botanical Gardens where streams from two springs from the Downs above join and flow into a small pond before flowing down to the sea.
At one time, the area incorporated a putting green, cafe and colourful flower beds. The area became overgrown for many years but today (2017), it is in the process of being restored and is the habitat of scores of interesting wild flowers and creatures.
The Coastal Footpath passes through Flowers Brook between Ventnor and Steephill Cove.