East Cowes Castle
From Wightpedia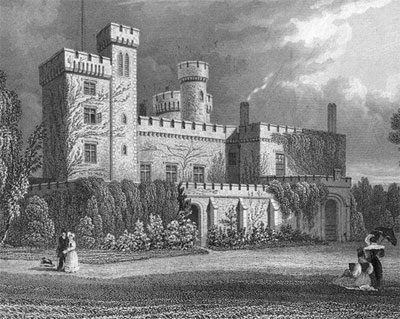 East Cowes Castle
In 1798 John Nash, the renowned architect, purchased land in East Cowes, Isle of Wight overlooking the bay and he built East Cowes Castle – not a defensive castle but a country house with towers, turrets and extensive crenellations etc.
John Nash died in 1835 and the Castle was sold.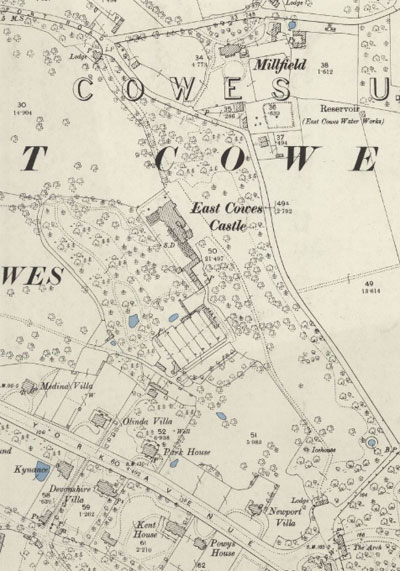 East Cowes Castle - 1896 map
Later East Cowes Castle was purchased by Mr. and Mrs. George Tudor, he being Member of Parliament for Barnstaple. George Tudor died in 1857 and his widow, Elizabeth Mary Tudor, married John Vereker, 3rd Viscount Gort in 1861, and so the Gort family connection with East Cowes and the castle was established.
Members of the Gort family continued to own the castle over the years. The family were also benefactors to the town of East Town.
When Lady Gort (ex Mrs. Tudor) died in 1880, she left £1000 to the East Cowes parish to provide a coal, food and clothing fund for the poor of East Cowes at Christmas.
In 1887 Standish Prendergast Vereker, 4th Viscount Gort gave the town the Jubilee Recreation Ground, to the South of York Avenue in tribute to Queen Victoria's Golden Jubilee.
Around 1887, the wife of Standish Prendergast Vereker gave the Laline Cottage Alms House, on the east corner of York Avenue and Adelaide Grove, to the East Cowes Local Board to house "six gentlewomen of East Cowes"
When John Gage Prendergast Vereker, 5th Viscount Gort, died in 1902, he left the castle in trust for his children with his widow, Eleanor, having use of the castle for her lifetime.
The Dowager Lady Eleanor Gort died in 1934, however their sons did not take up residence and the castle and contents were sold to a local development company. From then until 1940, the castle was effectively unoccupied, with only the gardens sometimes used during the summers months as a tea garden.
In 1940, thing changed when the East Cowes Castle was requisitioned for use by the military during WW2. The castle was used to billet British and Canadian troops of the Free French Canadians, and air-raid shelters were built in the grounds.
When the military moved out, the castle was found to be in a very poor state of repair. For a period the grounds were used as a market garden, and several plans to save the castle came to nought and the castle ended up being demolished in 1963 and over the years housing was built over the castle grounds.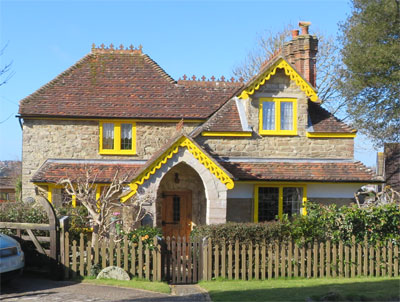 East Cowes Castle, North Lodge
The only surviving parts of the original estate are the North Lodge, in Old Road, the Ice House which, although surviving, has been filled with chalk and covered by a grass mound in Sylvan Avenue to preserve it for possibly future restoration and a pillar from the South Lodge.