E.L.M. memorial obelisk, Freshwater
From Wightpedia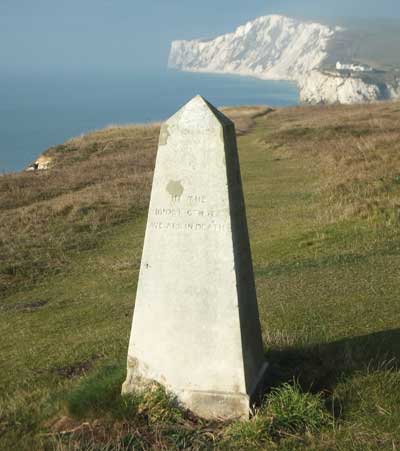 The E.L.M. memorial obelisk, to the south of the Afton Down road into Freshwater (SE of the parking area on the north side of the road), is a memorial to Edward Lewis Miller, aged 15, who lost his life by falling from the cliff near this point on 28th August 1846[1].
The inscriptions read:
North face:
E.L.M.
AGED 15
--
HE COMETH FORTH
LIKE A FLOWER
AND IS CUT DOWN.
HE FLEETH ALSO AS
A SHADOW AND
CONTINUETH NOT.
South face:
ERECTED
IN REMEMBRANCE
OF A MOST DEAR
AND ONLY CHILD
WHO WAS SUDDENLY
REMOVED INTO ETERNITY
BY A FALL FROM
THE ADJACENT CLIFF
TO THE ROCKS BENEATH
28TH AUGUST 1846.
-
READER PREPARE TO
MEET THY GOD, FOR THOU
KNOWEST NOT WHAT A DAY
MAY BRING FORTH.
West face:
JESUS SAID
'I AM THE
RESURRECTION
AND THE LIFE'
East face:
IN THE
MIDST OF LIFE
WE ARE IN DEATH
Reference.
↑

Hampshire Advertiser 5 September 1846, Page 5