Blue Jenny Charity School, Newport
From Wightpedia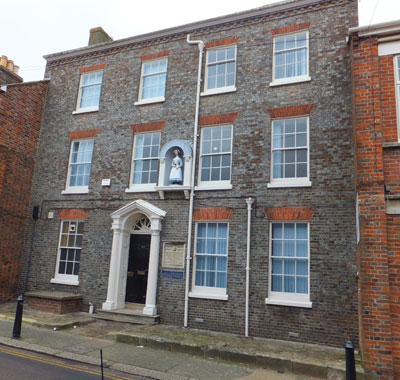 Blue Jenny Charity School - Newport
The Blue Jenny Charity School at 62 Crocker Street, Newport, Isle of Wight was founded in 1761 'for the instruction of poor girls whose parents could not afford to educate them.'
Originally it was in Lugley Street and the school moved to Crocker Street in 1877. There were places for 20 free places at the school, including 6 who also were lodged by the charity.
The school closed circa 1902/3 after the charity ran into financial difficulties.
The figure over the door is of a young girl in the 18th century uniform of the school, she is carrying a bible in her right hand, and a penny in her left hand. The original figure was removed to Carisbrooke Castle Museum when be became weather-worn, the figure standing over the door today is a replica carved in 1980.
The premises were purchased by the Newport District Nursing Association as a War Memorial Home as a memorial to those who fell in the 1914-18 war; the tablet to the right of the door records this.